As specialist collectors and sellers of used building materials, household products and recycled furniture, Vinsan Salvage is leading the way for environmentally-friendly construction and renovation in Western Australia. We aim to reduce waste sent to landfill in order to benefit the natural environment.
In fact, we have one of the biggest salvage yards in Perth, with the largest range of recycled building materials and second-hand stock displayed on a two-acre premises in Bayswater.  Whether you're looking to dispose of surplus material and products, or buy recycled building materials at reasonable pricing, Vinsan Salvage is your answer.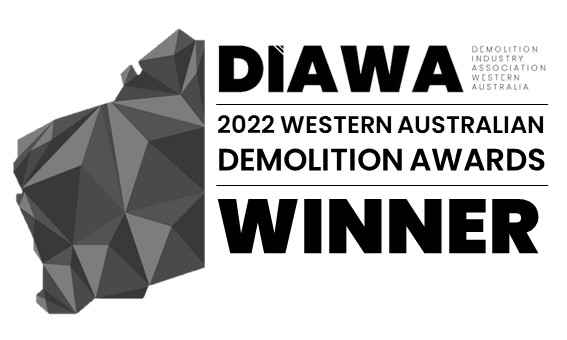 We are very proud to announce that Vinsan Salvage was recognised as the Recycling Winner 2022 at the First Demolition Industry Association WA (DIAWA) Awards Ceremony, which took place on 5th December 2022.
The Award was satisfying confirmation of 40 years of work that we, Vinsan Salvage management and staff, have invested into recycling. This recognition is a sign that we are going in the right direction and an inspiration for us to continue our great work.
Below is a list of the recycled building materials we salvage in Perth:
Air-conditioning units
Angle iron/ Lintels
Architraves
Basins
Bathroom vanities
Bathtubs
Benches
Bricks
Brick aggregate
Corrugated iron
Cupboards
Desks
Dishwashers
Doors (interior, exterior, barrier and security)
Fencing
Filing cabinets
Fireguards
Fireplace surrounds
Firewood
Floorboards (Jarrah, Wandoo and Karri)
Garage Doors
Gates
Gravel
Heaters (electric, gas)
Hot water systems (gas, electric and solar)
Kitchens (full, cabinets, benches, appliances)
Lighting (antique, industrial, household)
Office furniture – desks/chairs
Ovens
Paving
Plumbing fittings
Ridge capping
Roofing iron
Roof tiles
Sinks
Skirting boards
Spas
Steel
Steel beams
Stoves
Tables (dining and coffee)
Tiles
Timber (hardwood and pine, de-nailed)
Toilet cisterns
Troughs
Vanities
Wardrobes
Washing machines
Weather boards
Windows (aluminium and timber, colonial, French, security and leadlight)
Wood
Wondering where to buy recycled timber? We have one of Western Australia's largest ranges of seasoned recycled timber and can assist with arrangements to deliver. Have a look at our recycled timber in Perth here. Remember that we offer discounts to dealers and bulk orders.
Visit our Perth salvage yard at 25 Katanning Street, Bayswater, Western Australia or send us an email with your query. We have a dedicated team that will go out of their way to ensure that you get the type of service you deserve. To speak directly to a friendly consultant now about our WA salvage products and service, give us a call on 08 9279 3880.
Where can I dispose of building materials? Find out below.